Kite flying with small children isn't very successful.
In fact its quite painful at times. You manage to successfully get the kite in the air, you pass the handle to the small child and 90% of the time it then comes crashing to the floor.
Someone lets the string out when you aren't looking, another small child walks into the string and is then instantly knotted in the string in a web spiderman would be proud of. You say stand still, yet they hear, "move about as much as you can, and twist and turn every part of your body, lets see how tight we can make this string".
Everyone else's turn was longer than theirs. Yep, I turned the wind off when it was your turn.
But it's pretty fun. And cheap. And exhausting (an early bedtime, ooh bonus).
The best kite we have is a seriously cheap thing from The Entertainer (something like this…http://www.thetoyshop.com/outdoors/kites/Marvel-Ultimate-Spider-Man-Plastic-Kite/p/521000).
Find a small hill, adult holds kite at top, child at bottom, and shout "run" when you let go. Easy. Pah.
Hills also great for crazy girls to cycle down.
The baby found that more entertaining than the mummy (and this baby is still 'supposed' to be in a carrycot on buggy, she's only 5 months…not refusing to even sit back in the seat that has to be upright!)
And a 'carnic' (picnic in the car) to warm us up. Perfect Sunday morning. And a job to add to my list…hoover car. Oh well.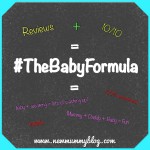 Linked up with #thebabyformula http://www.newmummyblog.com